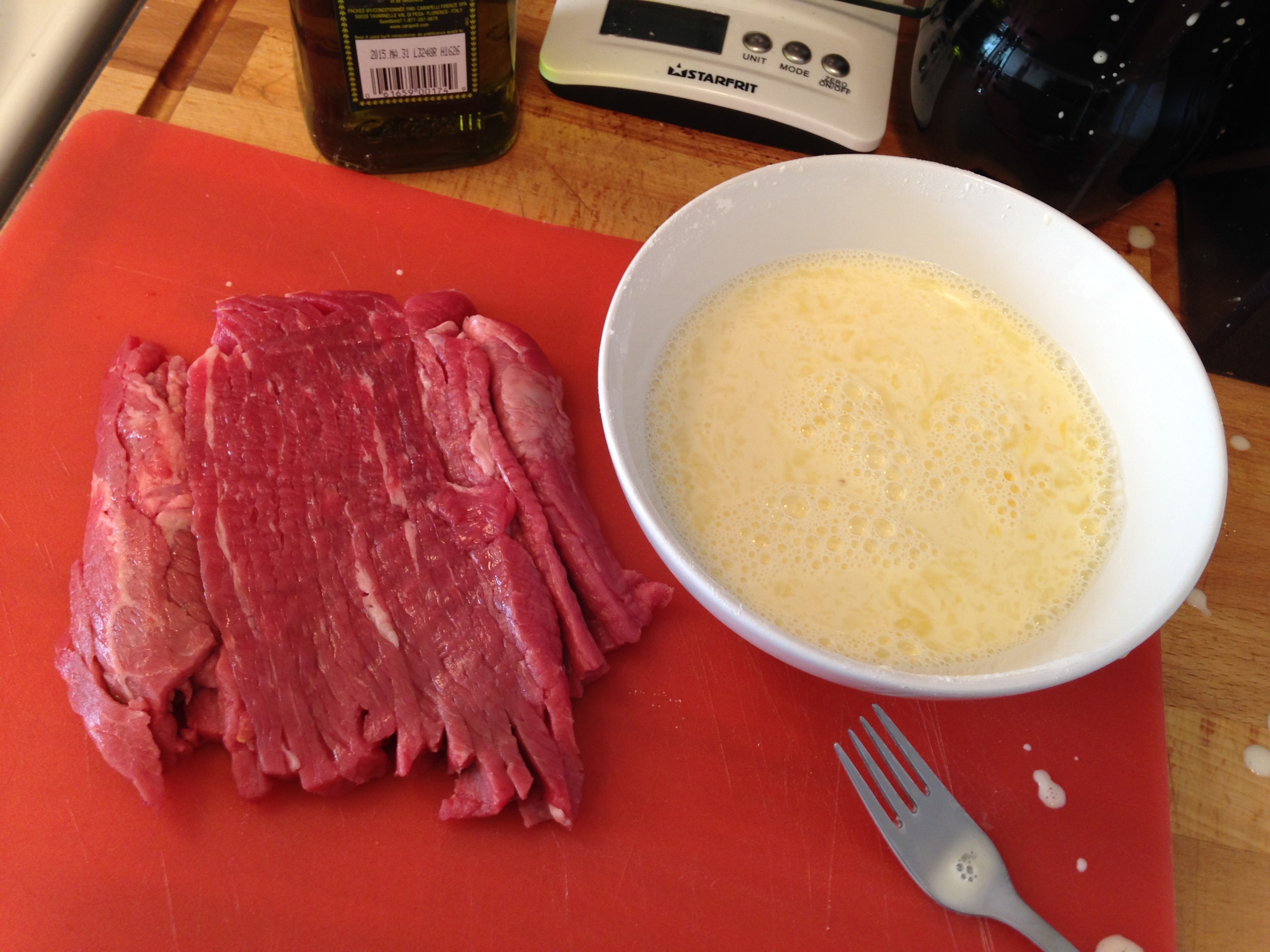 Every now and then I crave good old fashioned "Chinese" food (more like North American Chinese than Real Chinese, but hey!). But every time we order it, we order way to much, and subsequently, we eat way to much. So when my cousin's BF suggested a homemade recipe for ginger beef I sprang into action.
Crispy Ginger Beef
(as seen from Food.com)
1 lb steak, sliced into narrow strips (I used stir fry beef because my butcher pre-cut it thin)
3/4 cup cornstarch
1/2 cup water
2 eggs
canola oil
1 large carrot, peeled and grated
3 green onions, chopped
1/4 cup fresh ginger, minced (I bought the pre-minced stuff in a jar)
5 garlic cloves, minced (same deal as the ginger, store bought)
3 TBSP soy sauce
4 TBSP rice vinegar
1 TBSP sesame oil (or peanut oil)
1/2 cup granulated sugar
3 tsp crushed red pepper flakes, to taste
Prep all the veg. Mix them together in a bowl. Also, prep the sauce in a separate bowl. Set aside.
In a third bowl, pour water into cornstarch. Mix together. Add eggs and beat together until combined.
In a frying pan, pour in oil, 1 -2 cm up sides of pan. Heat oil over high heat until near boiling (aka very very hot). **Warning** Boiling oil is super dangerous if handled incorrectly. If you are more comfortable using a deep-fryer please use it.
Dip beef strips in cornstarch mixture to coat. Place coated strips in hot oil. Cover with a splatter guard if you have one. Cook meat, in batches, flipping until all golden brown, about 2 minutes a side. Be careful not to crowd the meat in the pan or it will clump together. Remove cooked beef and place on a paper towelled plate. Repeat till all beef is cooked.
Pour off excess hot oil into a can (or other oil receptacle), leaving about 3 TBSP hot oil left in the pan. Add vegetables to remaining hot oil in pan. Cook until carrots are tender and garlic is fragrant.
Add sauce, stir, and bring to a boil. Reduce heat and simmer until sauce thickens a little.
Add back the meat, stir to coat and serve immediately on rice or noodles.
Sooo yum! And pretty easy (if you're not to afraid of boiling oil...>>).
-Andrea
The Half-Assed Hobbyist